I love home improvement. I adore painting hand me down furniture, arranging inspirational image walls, building craft tables, and discovering how to build anything I need for weddings!! Just this fall I am building game inspired centerpieces, ceremony pedestals, and light fixtures. More on those details later. My husband and I love to build, fix, and improve our home on our own as much as we can. Lowes is our Target. We go in for one item, and exit with a buggy full!
My love for home improvement paired with everyone's obsession with Fixer Upper  inspired me to do a Lowe's meets wedding design. I can just picture a simple bride with a tea length wedding dress and a high ponytail with her groom  in simple slacks with a bow tie and suspenders. Their closest family and friends having a brunch or an afternoon at-home, reception. The more I think about it the more I want to do it with my own husband!
In the middle of putting this design together, a dear family friend hired me to design her wedding. It was simple, classic, and amazing. She and her new husband were still in college, and trying to put together their first home. She received some items from her family; researched other items in yard sales; and when all else failed, knew to go to IKEA. Her setting up house reminded me of so many newlyweds. All you want is to make your own home but you yet to have your dream job (or paycheck!). So, you get a couch from your friend, a bookcase from goodwill to makeover, and a basic drill to help you along the way. You are also surrounded with brand new pots & pans, fine china, that coffee maker you've always wanted, and a memorable monogram wall hanging. Half your house is 2nd hand and worn; the other half if shiny, pretty, and oh so brand new!
This is the aspect that completed my design. I can only imagine a couple making multiple trips to Lowes to prepare their house, and make the most of it for as little $$ as possible. While loving all the pretty fine new things sitting in their dining room.
So what does this all look like?
Some of the details I love: First, the tile chargers. I found some great faux marble tiles on sale for $.45 each and added some copper and rose gold brush strokes to each. All Occasion Party Rentals finished everything with simple white plates, and their Sheraton style flatware.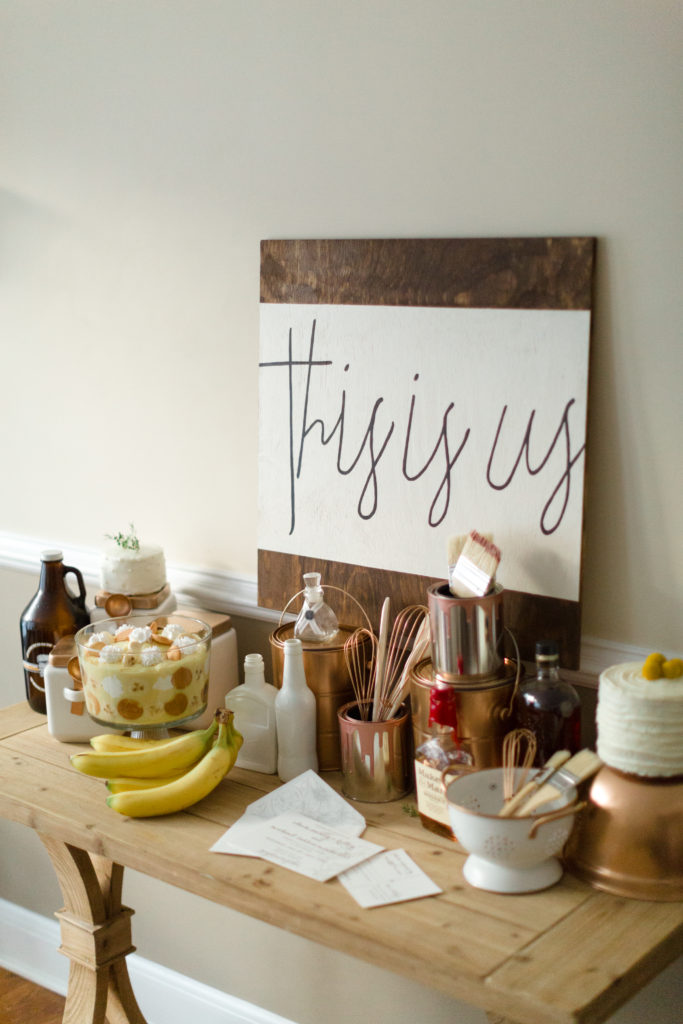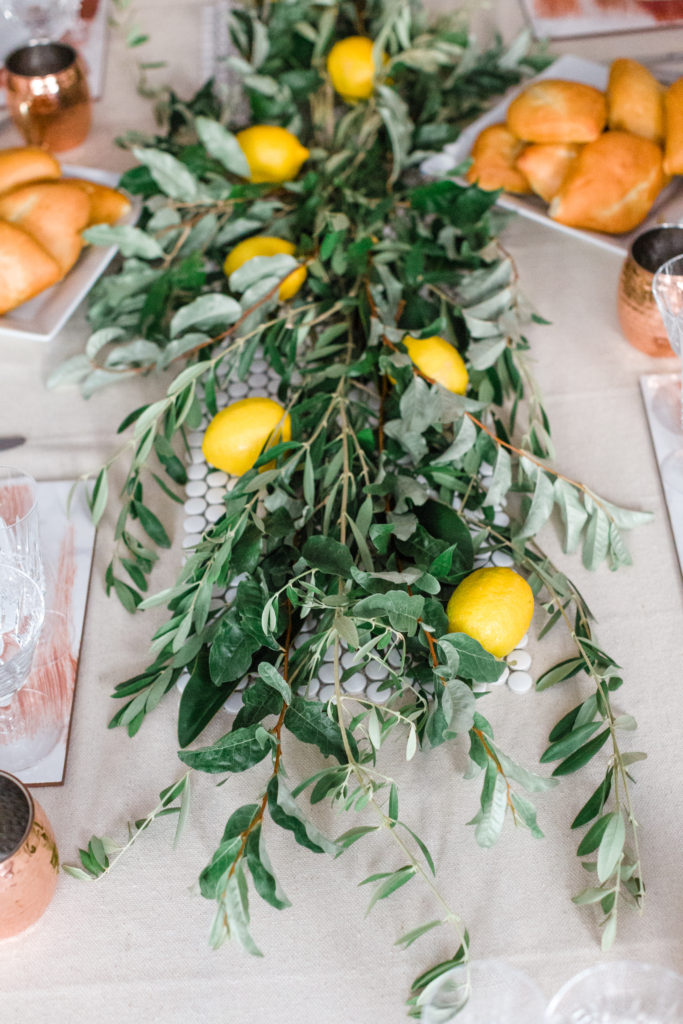 As a His & her touch we used antique cut crystals glassware with moscow mule mugs. Second: The clever and copper styling.  The copper paint cans added a great touch and were practical for cake stands and holding utensils.  Plus how cute is that little colander!!! If you look closely you can even see my little nodd to Penny tile!
Third: styling with food and drink. I love seeing the drink and food options. Having the food right out ready for guest to dive into and really adds to the look. No catering chafer dishes, no bar menu needed. Put the growlers, the whiskey, the wine bottles right out there. Let the products become the decoration. Plus, imagine trifle dishes filled with homemade banana pudding, platters of fresh fried funnel cakes, plates of moist apple cake with rum sauce. Makes you want to curl up on a couch with a mug of Cafe DuMonde coffee, huh?
The finishing touch is the sign. I handed painted the saying "This is us" on to a walnut stained board. I believe this saying sums up what weddings/marriages/homes should be about. You should be able to walk into your wedding look around and say "this is us."  Make your guests feel a part of your life. Make your wedding the start of your marriage. Simple is always beautiful. Comfort and hospitality is always timeless.
So, next time you are at Lowes get inspired. Next time you are at a wedding look around and see what the wedding says about the couple. Some start off with a brand new house, some renovate a family home, and some just rent a simple one bedroom loft. Whatever your wedding is make it feel home to your guests.
Thank you to all the vendors:
Design, Styling, Signage, by Live Laugh Love Weddings